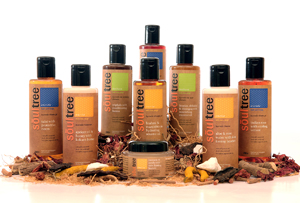 web:
www.soultree.in
SoulTree is the result of journey that began in 2002, a journey deep into the heart of Himalayas where we discovered the perfect balance of Man & Nature. Desiring to preserve this delicate balance we started working closely with small farmers to promote organic farming and ethical collection of Ayurvedic herbs on a commercial scale, resulting in conservation of environment & generation of sustainable livelihoods.

Ayurveda being the science of life believes in a holistic approach to health & beauty. It elaborates the principles of achieving a balance between the inner self and the environment. This was the inspiration which resulted in creating SoulTree, a range of Natural Ayurvedic Beauty Products.

SoulTree range includes Hair care, Skin care and Bath care products which are enriched with Organic Herbs, used according to their benefits described in ancient texts. All our products are made in our own manufacturing facility under the supervision of Cosmetologists & Ayurvedic Experts.

We are proud to bring the centuries old heritage of India to the modern consumer in the safest & most natural way possible!