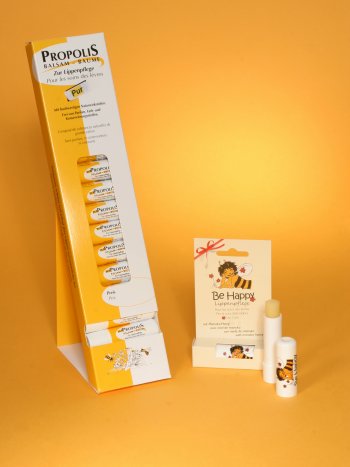 Health Care Products Vertriebs GmbH
Vinkelgasse 29
D-53332 Bornheim

Tel: 02222-939831
Fax: 02222-939834

e-mail: info@hcproducts.de
web: www.hcproducts.de



Wir beschäftigen uns mit der Herstellung und Vermarktung von Naturprodukten. So ist unsere Lippenpflege mit Propolis und Manukahonig einzigartig und von sehr hoher Qualität. Im Produktionsprozess werden die Rohstoffe besonders wertschonend verarbeitet, um Ihre guten Eigenschaften zu erhalten. Erhältlich sind unsere Produkte in Apotheken und Naturfachhandel.



Our lip care line based on propolis and manukahoney is a perfect example of the high quality products we produce. We use a gentle production process that preserves and respects our valuable ingredients. With the help of distributors we sell our products in pharmacies and nature shops. We are always interested in new cooperations.